BinaryCent is a brokerage that offers trading in Forex and in Binary options on the same platform. They are a hybrid broker who have recently turned their focus on Crypto currencies which has enjoyed attention from many traders recently. In this review, we shall be focusing on their Forex trading aspect. So this review will be helpful to people who are looking for a good Forex broker and were contemplating to try out BinaryCent.
They offer a wide range of assets for trading which include FX pairs, CFDs, binary options and cryptocurrencies. In fact, you can trade these assets in binary options form or in Forex form. The team has also invested in a nice in house platform for trading. The web based trading platform created by this broker is intuitive and comes with a lot of features which can be useful in aiding traders who want to trade Forex or binary options. Users can easily switch from Forex or CFDs to Binary options and vice versa using a link that is conveniently placed at the top of the screen. The platform has also been designed for access on mobile devices running iOS and Android. This means that traders who want to make money on the go can always find trading on such a platform very convenient since they can easily place trades anywhere even while on the go.
The Forex and CFDs interface is quite advanced. The charting is provided by TradingView. Now you can imagine all the benefits that come with this platform. In addition to this, the broker accepts payments from a variety of methods which include Skrill, Neteller,  PerfectMoney, and a lot of cryptocurrencies. Provided this broker is not a scam, a trader would have no excuse by saying that their preferred method of funding is not supported.
Having said this, we want to get into the company details and regulatory information. If this brokerage is not able to convince us here, then we will ask you to ignore it altogether despite the amazing features which it is seemingly offering their traders.
BinaryCent review
We have seen that this broker offers a number of attractive features to their customers which are not limited to a nice intuitive trading interface as well as a wide range of funding methods. However, we are wary of the fact that company background is not very clear, but Binary Cent is registered off shore. According to the site, BinaryCent is the property of Cent projects Ltd. which is operating on the behalf of FGC. Unfortunately, user agreement reveals that the company was registered in the Seychelles.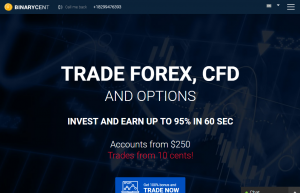 NB: Interested In Mining Bitcoin And Other Cryptocurrencies for Profit? Now, You Can Mine Better, Faster and Smarter for More Profits With The Ready to Use, "High Performance", and Approved IQ Mining BTC Cloud Service For Miners.   With This Mining Service, You Will Get Up to 128% Yearly ROI from Mining Bitcoins Alone Without Having to Buy Any Expensive Mining Hardwares and Softwares! Not Only That, You Will Get Your First Payout In First Few Hours After Buying a Plan With IQ Mining. You're Also Given a Dedicated Account Manager After You Buy A Plan Who Will Help You With the Best Pool Allocations and Account Setup Plans To Get the Most Out of Your Purchase.
The reason why we generally do not recommend off shore companies for trading is because they are neither monitored or regulated by a reliable governmental agency. That means things can always go wrong even if the company in question is registered and licensed to provide brokerage services. Since they are never monitored and regulatory rules are always weak, this provide the much needed leeway for scammers to do their thing. So you should keep off brokers who are registered off shore for this very reason.
No free demo
This is the fist time we are finding out that a Forex broker is not offering a free demo. The broker insists that we have to open a live account first and deposit some money in order to try their demo. This beats logic because the aim of opening a demo is to test the quality of trading conditions offered by the broker. If we cannot access demo, there is no reason to compel us to open a live account. Brokers who do not offer a free demo are shady at best. You should avoid a broker based on this ground because it is a valid reason.
Also, since they are offering Forex trading, most traders are used to the MT4 platform and want to use this platform instead of any other. This broker offers their in house trading software which may not the ideal choice for most traders out there. In this case, this can be a setback for this broker because most traders want what they do not have at the moment.
MT4 trading software is known for providing all the good features that makes trading fun. It is compatible with all expert advisors and traders can also access indicators for free. You simply select the indicator which you want and load it onto the chart for you to start trading. It is also versatile and provides extensive back testing environment. That means we cannot do without MT4 no matter how good the other trading platform seems to be.
High initial deposit
We have to consider one thing. That this broker is not properly regulated and for that reason, investing a minimum of $250 can be fairly risky. What we know is that there are good brokers out there who are properly regulated and accepting a minimum deposit of $100 or less. BinaryCent does not seem to be a very reliable broker due to their lack of proper regulations. This means that customers who chose to deposit this minimum are risking their money.
To this juncture, we can say that the broker prides itself in offering a rich product portfolio for those who want to trade just about any asset and their advanced proprietary trading platform is also good. Unfortunately, their lack of a free demo is a setback and something that traders will definitely hate. Their comparatively high deposit requirement is also a major setback. And of course they are not supporting MT4 which is also a setback on its own.
Our best advice for you
We are not going to ask you to trade with an off shore broker because we already know the risks that are associated with such brokers. Traders need a peace of mind and getting a properly regulated broker for your trading can help a lot. We have listed good brokers here who can help you have a peace of mind as you trade Forex.
If You'd Like to Get Notified When This Blog is Updated, Subscribe Below...
Summary
Reviewer
Review Date
Product Name
Author Rating