Quick Summary of 50K mission by David Howell
Rating: 1/5 not an impressive rating for sure.
Pros: You might have to look quite hard, but still will not find any.
Cons:  The negatives are endless.
Our recommendation: Save your money from this scam. To read our genuine recommendations, go here.
Full Review
If you wish to know the real picture, please read the complete review.
Red flag alerts
When I visited the website of 50K mission, I found a text field that required me to enter my email address to get immediate access to the website. Now this is a red flag alert because most of the scam websites compel you to enter your email address. This helps the scammers to prepare those marketing lists, and then you will be getting those endless emails that need to go in your spam folder.
Luring introduction
When I was looking at the website, I found an introduction video.  I could see some expected stuff. The video started with some positive reviews about the 50k mission. I have realized one thing that if you get to hear positive reviews about software without even trying it out you are somewhat hypnotized into buying the software. I have gained significant experience in trading so this is not a new happening for me, and these gimmicks do not impress me and they should not impress you either.
Fake profit disclosure by David Howell's 50k Mission
Now like most scam software this software also boasts of huge profit. See trading is a very critical field and it requires an immense amount of skill and competence. You just cannot become rich without any effort. You have to try hard to achieve your goals. Now just have a look at the snapshot below and it says that you can make about $50,000 in just a week. Well, it is quite hard for me to believe because I strongly believe in the fact that no pain no gain.
Unconvincing approach to start
Now all the time Speaker of the video was speaking of figures that could multiply. The question how was never answered properly. However, what I interpreted was that the software can make transactions on your behalf on autopilot, and your profits will multiply. Well, even a new trader will not believe in this right. Now what you need to do is that you have to make a deposit of about $250 and that can multiply as per the snapshot given below. This is totally baseless because this is not the first software that makes such claims. Trading is a very technical field. I know this because I have found my moments of fame with trading and yes I had to face losses as well. This is the reality, and this is something that happens with every trader whether you are new or a seasoned trader.
👉 ***Do you want to earn a side income with a stable crypto investment platform that generates sustainable monthly yields? Get this: You can now make a steady profit margins thanks to a new innovative way of investing in crypto. YieldNodes is the answer you need to start making a decent profit with cryptocurrency investment whether you are a beginner or professional in the crypto space.

A multi-tiered node rental program

is what Yield nodes is bringing to the table. Master-noding is the avant-garde of generating

high ROI

thanks to the ingenious of Stefan Hoermann and his team. With master-noding, you invest and let the platform do the rest for you. What is master-noding?

It is not TRADING. It's a new way of generating revenue by providing technology that relies on a proof of stake approach.

Yieldnodes operates these crypto master-nodes and optimizes complex strategies to ensure members earn a profit. Yield Nodes will prioritize your security by providing accurate investment options. Members get protection from external losses or unforeseen changes in market conditions.

This is not in any way a get rich quick scheme

; once you deposit funds; you have to wait for the yields to mature. Yieldnodes is providing a proven, innovative, and secure way of making high returns on your investment with crypto master-noding.  With just a minimum deposit of €500, you are good to go! With a minimum contract duration of four months, it gives users a chance to fully experience master-noding. By joining Yieldnodes, you stand a chance of

making 5 to 15% every month

.  If you are still wondering whether this is a safe option, you can cancel the contract at any given time. For those who want to join and upgrade their investment strategy, Yield Nodes is the solution.

Click Here To Sign up with Yieldnodes Today

PS: YieldNodes is 100% Verified and Recommended by Valforex.com.
The major concern
Now when I watched the video, suddenly the video started to discuss donations. Yes, now that baffled me that what a trading software had to do with charity and this aroused my curiosity as well. I watched the video further to know more and then the main secret was revealed. Nothing is free my friends.  You will be required to pay an amount of $50,000 as charity once you have made half a million dollars. The concept of half a million already sounds quite unreal, but this charity thing is a stranger. I think it is a personal decision, and you will prefer to make donations as per your pocket and to the preferred people you want. Do not believe me just check out the snapshot from the website.
My points of disagreement
The 50k mission software claims that the user does not need any education or skill and knowledge of trading.  I believe and have tried this out, but even with an experience of over ten years I still figure out new things to learn every day so how can I believe it. The 50k mission software by David Howell claims to make decisions on its own. Let me tell you making trading decisions is not a child's play, and even the best traders can go wrong. It also says that you do not have to invest time and effort. Even I do my bit of research because I have to know what is happening in the market otherwise I can be in trouble. A software is not a human mind, and it can never be perfect. If you think logically what I am saying will start to sound quite convincing. The truth may sound bitter, but it is a better option than to believe in false lies.
 Pressure techniques
See whenever you visit a website offering a trading software you get to see and listen to stuff like only 100 people allowed or just 25 slots. Well, the main objective of this is to hurry you into a decision, but it is up to you whether you want to be pressurized or not. Do not hurry a decision. Think logically and then make your choice.
Verified results a big question mark
I also found these so called verified results on the website. See, a genuine software does not need to present this perspective. They simply give out the features of the software, and that's it. The user can try out and establish his opinion. You know quite well that there is no way to verify these presented results, so it is no use believing in them in the first place. I will just ignore these results because they do not matter to me. I know a trader has his set of ups and downs, and there is nothing like 100 percent profit all the time unless it is a dream that you wish to come true.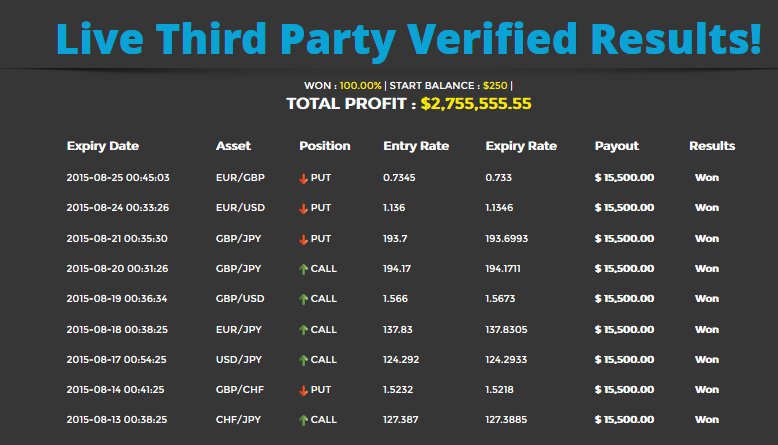 Testimonials nothing new
See, even if I find 100 testimonials on the website they will not convince me because it is a routine thing and present on every website that sells any stuff. What counts is only the personal experience with the software because only that can give the real picture. You should not even waste your time looking at these testimonials.
 What you need to know
Now let us come back to the main point. Binary options trading is a very tricky field. When you sign up with a trading platform or broker, they offer you tutorials on binary options trading because it requires you to learn. Even demo accounts are offered so that you can test your strategies. What I want to say is that a software can not manage binary options trading. You have to do your research and devise strategies. Some of the strategies will work out and some will not. How you practically learn is by facing your set of losses then gradually you get the grip on trading through daily market updates and research. It is not that easy, so I feel that I should give you the true picture. If you want to learn binary trading, then I believe that you should go through the struggle of learning.
However, I will like to end my review on a positive note. If you need some genuine help, then I can offer you a useful link. See this link. When you have a look at this link, you will find a list of signal services and/or working robots that can give you some basic help with trading. I feel that this information will do you good.  Explore the link and read the content in detail. I am sure you will not be disappointed and finally refrain from signing up with a 50k mission if you want to save your time and effort.