Ambrysun (Ambrysun.com) is a Hong Kong-based Bullion broker with no valid license credentials. These scam brokers have created their own compliance page to fool investors. On their homepage, they claim to be have a Canadian MSB License. FINTRAC is the body that regulates all exchanges in Canada. They don't have a broker licensed under the Ambry Sun brand. And this is what makes trading with this platform the riskier. They are not reliable and have no valid trading background and history.
About Ambrysun
The broker claims to offer gold and silver as their main trading asset. They also claim to be competent in both MT4 and MT5 trading platforms. Even if this is the case, a lack of compliance is a huge issue. No one should sign up with a platform that has no valid credentials. It is what makes us rebuke the use of this platform. Without a credible trading history, no one knows whether the platform is operated by amateurs. Before you sign up, ensure you read this detailed Ambrysun Review.
When trading with online brokers, the only safe way is to have the best experts available. With these experts, investors and traders alike are guaranteed safety. Investments with reliable brokers are safeguarded which is what everyone successful trader uses. Try these brokers and get to experience the benefit of having experienced experts by your side.
After landing on their homepage, a couple of details immediately popped up. They claim to be regulated in Canada and have a Hong Kong address. The homepage is not professionally designed which is cause for concern. Why would this be a professional brokerage service when their website looks shoddy? To top it all off, the broker has created its own regulatory page. The Canada MSB license page is in Chinese which means this is not a true regulatory body.
Assets covered by the broker
They claim to trade only with gold and silver as their main assets. On further scrutiny, they also brag to be part of the Bitcoin trading revolution. They do not give much detail on their Crypto assets. Another issue with the platform is information regarding their main assets. They fail to give investors the features available for trading with them. Investors are signing up blindly to a platform that has no credibility. Without such credible information, the platform might take advantage of naïve investors.
👉 Interested In Mining Bitcoin And Other Cryptocurrencies for Profit? Now, You Can Mine Better, Faster and Smarter for More Profits With The Ready to Use, "High Performance", and Approved IQ Mining BTC Cloud Service For Miners. With This Mining Service, You Will Get Up to 128% Yearly ROI from Mining Bitcoins Alone Without Having to Buy Any Expensive Mining Hardwares and Softwares! Not Only That, You Will Get Your First Payout the Next Day After Buying a Plan With IQ Mining. You're Also Given a Dedicated Account Manager After You Buy A Plan Who Will Help You With the Best Pool Allocations and Account Setup Plans To Get the Most Out of Your Purchase. Click the Banner Below To Register Now:
Business owner
Ambry Trading Co Limited is the company that claims to be the owners of this platform. Their main office is in Hong Kong and fails to give us the full details of people running it. We don't know who the CEO or CFO of this company. Another problem is that the company is not on the list of registered Hong Kong companies. Investors should be wary of entities that fail to have valid license documents. They should have posted their company license number if they had any.
The company has no online comments that we can see since it is relatively new. And this is a dangerous trait to have with offshore brokers. With over four months of existence, they fail to give users full information on customer feedback. There is no interaction between the platform and any of the members who signed up. We could not even find a post from members of the trading community. And this goes to prove that the broker is not trusted by investors. Due to their anonymous nature, no one wants to sign up with them.
Domain insights
Domain details help us know when a site went live for reputation's sake. The records show that the website Ambrysun.com went live on 28th April 2020. For what we can gather, the majority of their traffic is from Hong Kong. Hong Kong has transformed from a reputable trading place to a beehive of scam artists. Scam brokers are turning to this area to host their scam brokerage firms. They hope to target investors who have their financial base in this financial business district.
Features of Ambrysun
The platform boasts of forecasting market prices to help traders with their decisions. They claim to use two mainstream methods to achieve this fete. The platform claims to analyze market data using basic analysis and technical analysis. One can get to read their full analysis process on their page. And this is a huge problem for users who sign up. The platform is lacking in more ways than one. Without the backing of professionals, all these could be industry jargon posted to fool investors.
License and Registration of Ambrysun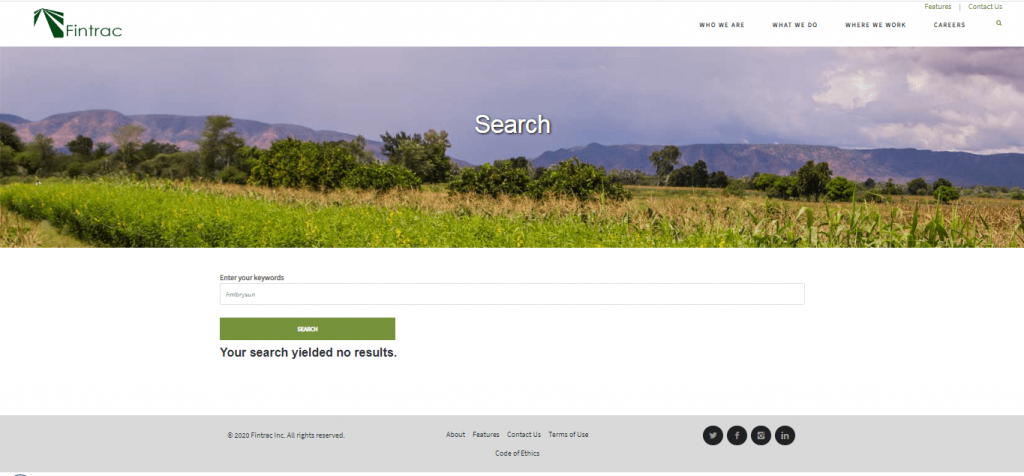 Ambrysun IS NOT LICENSED by any official regulatory body to offer trading services. They claim that they have been licensed by Canadian authorities is a lie. The broker has even gone ahead and posted their false license number. On their homepage, they claim M20892366 to be their official MSB license number. These are false claims that will leave investors signing up to an unregulated platform. The problem with such platforms is the lack of insurance cover for any deposits made.
Another problem with their license details is the lack of proof to back their number. A real trading platform will post copies of their license details for all to see. The documents should match the number and also be on the regulator's official page. A search conducted via FINTRAC shows that the platform is not regulated. And this means anyone who signs up with the platform will have a terrible time. They will be depositing funds to an unknown online entity with no way of recovering them.
Limitations of Ambrysun
Account management
Ambrysun is not issuing any account type to investors which is a huge problem. No one knows the depository amount required to start trading with the platform. And this is a huge problem as investors will be asked to deposit different sums. It means the platform will take advantage of some investors. This is probably the reason why they fail to give the account features. No one gets to know the leverage and spread of their assets. Investors are at a disadvantage when trading with this platform.
Contact and support
The platform does not have a live chat support team where investors can contact them directly. Their contact page only has a service email with no phone number. They should have at least posted their phone number for the easy communication process. Without such details, it means the platform is out to block any attempts to contact traders directly. And this is why we must thrive to shut down this platform. The broker does not want to be bothered with complaints from investors.
Deposit and withdrawal
On their deposit and withdrawal page, users are to use bank depository channels for funding. The problem with this process is that no one knows whether the money goes to a personal account. Withdrawing funds from such a platform become hard for investors. No member will be able to withdraw funds directly from the platform. The broker will most likely block all attempts on this. And this is why we should stay away from the platform. This is another ridiculous trading platform to rear its head in the market.
Safety of funds with Ambrysun
The security of funds is not guaranteed by a platform that offers no trading license. Investors should be wary of the fact that this is an offshore brokerage firm. They fail to give users ample communication channels which pose a huge challenge. Investors should know that this is a platform that has no valid credentials. Investors should just stay away from it use other recommended brokers. The website is also lacking in security software to protect users from third-party attacks.
Scam or Legit Ambrysun
Ambrysun is a scam platform since they have no proof of concept. There is no evidence to suggest that this platform is profitable for investors. Not a single member has come out with proof of withdrawing funds with this platform. And this is the main reason why we have to flag down this bullion broker. They have no credible way of protecting investors from hackers who might steal credit card information. The best option is to stay away from them.
Bottom line
By adding this platform to our scam blacklist, we will be protecting our investors. Stay safe and warn your investor friends from joining their platform. Share this post with your loved ones to protect them from this offshore broker.
The best way to trade with online experts is by using recommended trading experts. Sign up with professionals who have the backing of the industry. Choose reliable brokers who will guarantee a passive and steady income.
If You'd Like to Get Notified When This Site is Updated, Subscribe Below...