According to them, AroxCapital is the most innovative broker in the UK. We completely disagree since this is a proven scam. The Financial Conduct Authority does not have a broker under this name. Arox Capital is another broker trying to penetrate the European market using UK residency. We have seen this kind of behavior with offshore brokers who want a piece of the European investor community. This AROXCAPITAL Review will denounce and expose the red flags on their website. Learn more in this detailed post.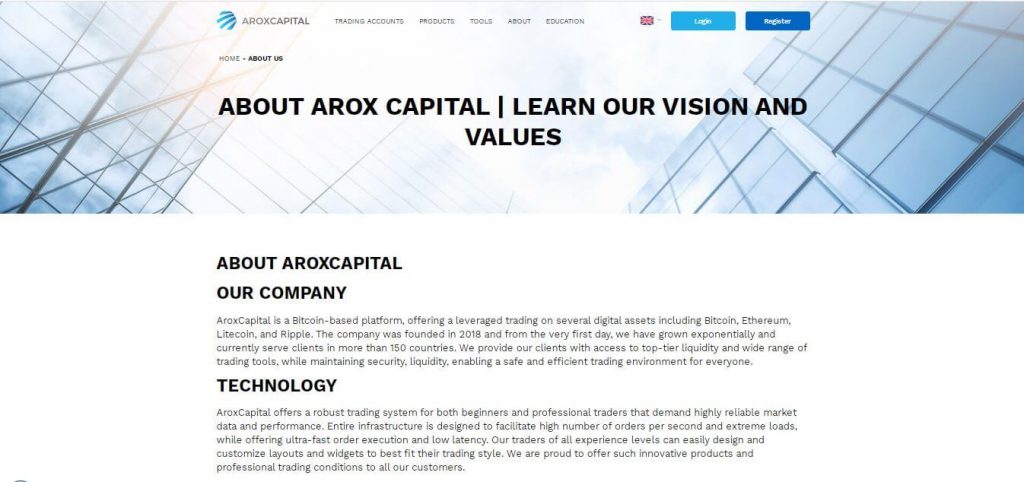 One of the surest ways to earn reasonable profit margins is by using transparent brokers. The industry recommends leading brokers who have a proven track record. These brokers offer much-needed support when it comes to learning the ropes of trading. You trade knowing fully that your funds are safe. With these brokers, you also enjoy the protection of regulators. It's why using expert-backed brokers is the way forward when trading.
About AroxCapital
The broker heaps praise on the platform by claiming it's a Bitcoin-based platform on their about us page. The broker claims that the company was founded in 2018, which we will reveal as false.
These are offshore brokers who have been using the website for other malicious services. The claim of growing exponentially in over 150 countries is false. Due to the expose, we believe this broker will soon shut down the website.
After landing on their homepage, you will notice that the platform has an appealing look. The broker makes sure that the website is visually appealing. To the naked eye, this seems to be a perfect trading platform.
Thanks to our years of trading experience, we know how to spot the red flags. AroxCapital is full of red flags despite its claim of being the best bitcoin-based platform. Here are the reasons why this platform is a no-go zone for investors.
Are funds safe with AroxCapital?
Your funds are far from safe with a broker who doesn't hold a valid trading license. The broker does not safeguard funds as they don't segregate accounts. Once you deposit funds with this broker, the money goes straight to their personal account.
We also see that the website lacks SSL encryption leaving users vulnerable to malicious attacks. When making any form of deposit, banking detail may be at risk from hackers.
AroxCapital License and Registration status
Aroxcapital is not a legit trading platform, which is evident by the lack of any licensing documents.  One expects a broker to show their license documents for all to see openly. It helps to show that you comply with the industry's regulations.
We do notice that the broker fails to mention their license status. It's common for offshore brokers to flaunt trading rules which they do so willingly.
Once you deposit funds with this platform, there's no regulator to protect you. Members are at the mercy of these offshore brokers. With the broker lacking compliance, they can change their trading conditions at any time.
That's why you need the regulator to protect you from such behavior. You should know that even brokers earn profit from losses made by investors. A smart person will sign up with a regulated entity to safeguard their funds.
Assets and trading instruments Aroxcapital.com
There are five trading products available on the website. These assets include commodities, crypto, forex, indices, and stocks. For the stock assets, the broker claims to have leading US company stocks.
You can get access to FAANG stocks with this broker. Dealing with Crypto assets is another worrying feature with the broker. The broker offers crypto pairs that don't enjoy the green light from regulators.
Business owner
Anonymity is what drives offshore brokers into scamming investors. Once you notice that an online investment scam is anonymous, stay away. Although the broker claims to reside in the UK, these are false address details.
We know for a fact that scam artists will do or say anything to make the website appear legit. The company is not found in the UK company registrar, which says it all. Arox Capital is another anonymous online trading platform.
Comments from users
User experience from this website shows the frantic effort from the broker to steal funds. Chris already calls it as it is; a scam. He made the mistake of depositing funds with the platform only to get blocked from accessing funds.
It would be best if you were careful with some positive posts on Trustpilot. The broker has a hand on it. You can note that all positive reviews are from February 2021 to March 2021. Remember that the platform is over a decade old.
Contact and support
Despite claiming to be a bitcoin-based platform, there's one missing element to this platform. Contacting the broker is next to impossible as they ensure they control communication. Any Bitcoin-based platform will have live chat support.
This platform, on the other hand, uses email and a message board. We did note that the phone number is a virtual number and a bot representative answers all calls.
Domain insights (aroxcapital.com review)
The IP location is Dublin which exposes their actual residence. Domain tools checker doesn't have the specific date this website went live. What they have is the number of IP changes over the past 15 years.
If this is true, the platform has been in existence for over a decade without any license. By now, they ought to have a license if they want anyone to see them as a valid trading platform. You can use free domain checker tools to check out a website's online footprint.
Features of AroxCapital
Accounts and plans
Aroxcapital furnishes members with four account plans. These plans include Bronze, Silver, Gold, and Platinum. With the bronze account being the basic account, members must deposit 5,000 Euros to start trading.
The amount is way above the industry-recommended minimum deposit of $250. This is another reason you need a broker who's regulated so that they don't hike prices. The broker is taking advantage of naïve investors.
Bonuses and commissions
Another reason to doubt this broker is the fact that they offer bonuses and commissions. Regulators are against brokers who offer such services to investors. The bonus amount will come back and bite the owner.
When sending a withdrawal request, the broker will demand their bonus back. Even if your account has the funds to cover it, these scam artists demand a new deposit. That's how they know you want to skip out; their next play is to shut down your account.
Depositing and withdrawing with Arox Capital
There are four deposit and withdrawal options listed at the footer of their homepage. These four payment options include MasterCard, Neteller, Skrill, and Visa. Depositing funds is easy, and the entire process takes less than five minutes to complete.
Withdrawing funds with AroxCapital is next to impossible. For all the time the platform has been online, no one has made any withdrawals.
Trading platform
TradingView is the platform available when trading with this platform. We don't have to tell you that this is a platform that fails to have advanced trading tools. When trading, it's best to use MT4, MT5, or SIRIX trading platforms.
Scam or Legit AroxCapital
AroxCapital is a scam that is not worth your money or time. Please stay away and avoid any interaction with their call agents.
Conclusion
We won't recommend this broker as they don't have a valid license. To add salt to injury, they are an offshore trading entity.
Make the right decision and have proven brokers by your side. It's the best way to trade and also guarantees you protection.
We wish everyone a happy and successful trading experience.