Bitcoin Champion 2020 is a company that claims their bot has a limited offer. Therefore, investors should not waste any time and join the platform right away. The software is being advertised using multiple domains, like Bitcoinchampion.io and Bitcoin-champion.com.
This company is the same. They feature a video that has been used by other fraudulent software to advertise their dirty scheme. To change your life, you need to make a bold move and join the venture.
Unfortunately, this is another Ponzi scheme that will leave investors high and dry. You need to share your full name, email address, and telephone number. Their website has fluff information. The firm accepts $250 as the initial capital.
Bitcoin Champion 2020 allegedly yields 60% daily profit for their clients. They can generate high returns because of utilizing the AI algorithm. Unfortunately, this is not the first entity to make such claims.
Most of the times, you will find that the company does not even have trading software. Additionally, the bot also states that it has been tested by experts in the industry. Therefore, it is proven good software. The company is capable of availing false information to win over traders.
Bitcoinchampion.io Review
The algorithm which Bitcoin Champion uses has allegedly been used before by Wall Street, and critical financial institutions. They feature live trading results that are bogus and manipulative. This data should not convince you to deposit funds with a scam anyone can create such a table.
Traders need to complete the signup process, deposit fund to their account and then start trading. The platform brags that it has been in the industry for four over four years. Unfortunately, this is another big lie that does not add up.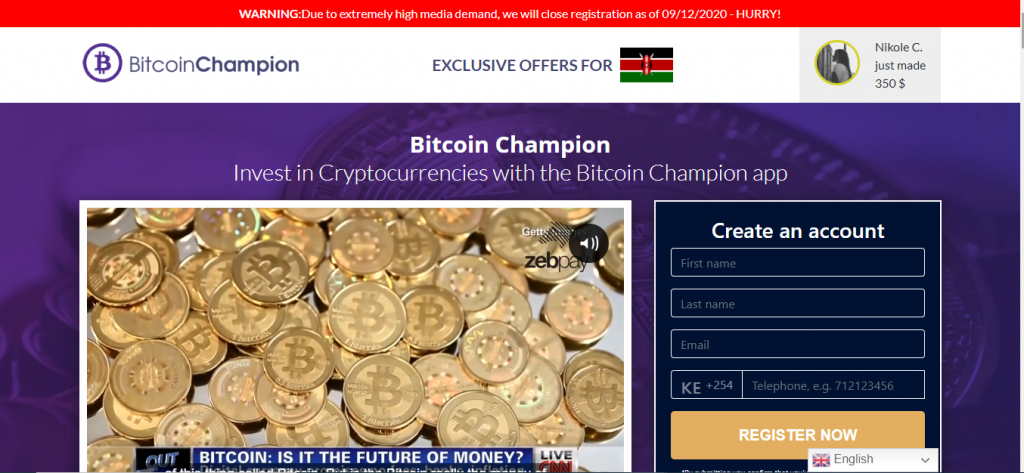 According to Whois.com Bitcoin Champion was launched on September 2020. If they can lie about minor details like their history, you don't know what the firm is also hiding.  Investors need to deposit more funds for them to earn more.
The profit that you generate depends on whether you are following the instruction which the platform avails and the amount that you deposit. Investment carries a lot of risks, especially crypto trading ones. Legit crypto trading ventures do not make such promises to their customers.
Invest with legit crypto trading software that is reliable. Reliable companies are the best to deal with and will help you in realizing your financial goals. However, there is a need for being cautious and keen while trading.
Bitcoin Champion 2020 Contact Details
Just like all other Ponzi schemes in the market, Bitcoin Champion does not have contact details. The determination with this broker to stay anonymous is baffling. Once you invest with them, keep in mind that you cannot contact them once you encounter any issue.
Additionally, the physical address of the company remains mysterious. The country of origin of the firm is not disclosed. If the bot is legit, we wonder what they are hiding. The info of the founder stays hidden from the members of the public.
Regulatory Status
The platform does not discuss its regulatory status. The company is collecting funds from various investors in the market. However, Bitcoin Champion has not met the requirement of various financial watchdogs.
The company is charging a commission fee of 2% to their clients. If you lose the platform does not take anything from you. Additionally, to minimize the cost of trading the company partners with ECN brokers.
However, the information is false, and once you sign up with Bitcoin Champion, they will link you to offshore brokers. The trading bot does not care about the safety of their clients. The entity is not transparent, and they only care about making money for themselves.
The software is a Ponzi scheme that is not tested. No single trader can prove that he/she has earned using this bot. Furthermore, the platform is anonymous and can exit the market whenever it pleases.
They do not have terms and conditions that govern their operation. The company is not endorsed by any reputable organization or individuals. Furthermore, you will not get fund safety from this venture once their system collapses you will not be compensated.
False Feedback from Clients
Bitcoin Champion is a sneaky company that features false testimonials. The firm showcases investors who have earned using their platform. Additionally, they are even rated with 5 stars in trust Pilot.
However, the entity has paid these reviews to praise their illegal services. It is hard trusting a platform that uses stock images to win sales. Nobody has generated any profit by using this bot. The company should provide payment results instead of using bogus data.
Scammers are tactical and mainly targets novice traders. Bitcoin Champion is working with shady brokers in the industry. Moreover, there are existing complaints from investors that indicate the company threatens them after refusing to venture with them.
It is unethical and shows that the software firm is unprofessional. The platform is advertising its services on various social media. The scammer behind this venture should be put behind bars once caught for deceiving innocent traders.
Red Flags with Bitcoin Champion
The company recycles content that is featured in other fraudulent platforms. Bitcoin Champion is a website that is designed by affiliate promoters. They avail information that is easy to deceive clients. Furthermore, the firm uses false reviews to attract more victims.
This company previously existed by the name Bitcoin Revolution. Currently, the website is no longer functional. The people behind this entity are well known for deceiving investors. The entity will proceed to sign you up with shady brokers.
Unfortunately, Bitcoin Champion does not send investors trading signals. The worst thing is that they also don't have legal documents. The moment they disappear, the authority will not be of any help. Investors should not invest with this entity because the only thing they will get is disappointments.
The venture is not legit, although the marketers of this bot states otherwise. You should invest with a legit trading bot that is reliable. Make sure that before you venture in the online trading market, you get sufficient information.
There are various materials that you can use to educate yourself. Once you do this, you will not lose funds to scammers. The safety of traders is not provided. Once you invest, you will lose all your money.
Bitcoin Champion does not segregate finds. Sharing your information with them put you at high risk. The entity can choose to share it with the third party against your consent. You will start receiving calls from their sales repetitive.
Final Verdict
Bitcoin Champion is accepting money from investors in European, Africa, North America, and Asia. In these countries, there are strict guidelines which investment ventures must follow. Sadly, this bot is not featured in the database of these bodies.
The security of investors is uncertain. The software does not perform trading activities. They are only after your money. The positive feedbacks of this scam are false. If you do not want to lose your funds, then stay away from this venture.
Invest with the best cryptocurrency trading bots in the industry that have proven to be reliable. You will never regret depositing money with them. The endorsement from various investors and verified trading results is enough evidence the software is working.