Bitcoins Wealth Club (not to be confused with its other version, the Bitcoin Club) project is a big nasty scam with no shred of evidence to back their ridiculous promises.
No doubt, Bitcoin is now popular around the world. But this is exactly the kind of opportunity that suckers are looking to leverage on. They sell all sorts of horse manure trading and educational platforms for Bitcoin. But when you ask them to prove that what they are selling is profitable, they will never give you one bit of a reply except total nonsense.
Over the last few months, we have been scouting for popular Bitcoin scams so that we can bring them to your attention.
We managed to find one website by the name Bitcoins Wealth Club (Bitcoinswealthclub.com). This website claims that the project belongs to someone called Vitaliy Dubinin. Now, if you are not familiar with this name, then chances are that you are green when it comes to the world of making money using crypto-currencies.
Or perhaps you have come across the Bitcoins Wealth Club and you are trying to make up your mind on whether to join or not. But there is no need to wonder any more. This Bitcoins Wealth Club review will tell you why we have already declared it total BS. But first, if you need legitimate trading products, sign up here.
Bitcoins Wealth Club Review
We've found that Bitcoins Wealth Club is a program that parades itself as both a crypto-currency educational system and a wealth generator. It promises a daily return of 0.3+ Bitcoins. That's around $1,800 per day. All you have to do is register for 'FREE' to join the exclusive Bitcoin club.
On top of that, the Bitcoins Wealth Club promises that they will teach you everything related to Crypto-currency investment, and that once you pass the learning process, you will make between 0.5% and 1.25% every day in pure profits.
The courses that you will be taking are allegedly free too. Quite ridiculous, don't you think? Besides, the Bitcoins Wealth Club scam promises that they do have a residual income system that will help members earn even more money when they join.
These promises are hard to believe. The entire presentation is fishy. It reminds us of classic scams that only promise lots of money for doing nothing.
And you see, when something sounds too good to be true, then chances are that it is not true. Even before you can consider joining the so-called Bitcoins Wealth Club, you should ask yourself several questions like who created it and why did they create it? You should also seek to know what the developer stands to gain by issuing this system for free. Once you have answers to those questions, you should ask yourself whether those profits are realistic. Are those promises achievable?
Let's have a discussion concerning the owner of this "millionaires' club"
Owner of Bitcoins Wealth Club
Once you enter your email on the landing page of this website, you will receive an email from 'Vitaliy Dubinin', thanking you for taking action that will change your financial status forever, starting then.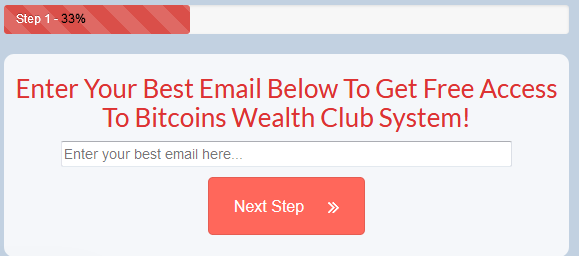 After thanking you for joining his system, he goes ahead to tell you a brief story of how he started, how he was a novice and how he came to ultimately learn how to make 2K worth of Bitcoin on a daily basis. If you are a naive investor looking for opportunities that sound good to the ear, you will ultimately fall for his tale.
Apparently, this man, Dubinin, has never been associated with any genuine business to start with. We don't think that this time round, he has found a legitimate business worth promoting on the internet.
How does it work?
The moment you sign up, you will receive a confirmation email asking you to complete the sign up process. Once you follow the prompts, you will be redirected to your dashboard. Your dashboard has a few icons that have been labeled with various words such as Quick Start Video, Bitcoin Academy, Bitcoin Passive Income Opportunities, Trading Cryptocurrencies and BWC Facebook Group.
According to this program, all training is free of charge. You can actually begin learning right from the time you login because those materials are available for free.
This specific course is called "The Secrets to Growing Your Wealth in Bitcoins".
This course contains up to 7 models for your 'learning'. Surprisingly, everything other content is free except module 5 and 7.
Now, this is where the trick lies in. As you might have known, Bitcoin trading is very unpredictable, except in cases where a user is employing the help of a trading system that can actually analyze trends and keep monitoring critical elements of that particular market.
Therefore, it does not make sense to say that you will be making 2k a day out of Bitcoin trading. There is no way of assigning a particular value to your trading.
Vitaliy actually wants you to join Bitcoins Wealth Club so that he can refer you to other programs that will also require you to ask people to join you.
He gets paid when you join. He therefore expects you to find other people who will join under you to keep their phony scheme operational.
Bitcoins Wealth Club is a combo of multiple scams
Vitaliy must be a very canning person. This is probably how he makes money off his victims. The above method is one technique through which he makes his money.
This guy also refers you to shoddy platforms where he has partnered with criminals to fleece you. These platforms are mostly not licensed.
Those platforms include USI-Tech and Trade Coin Club. Usi Tech masquerades as a legitimate trading software developer who has managed to make 150% return on investment for their clients. On top of that, they claim that their headquarter is in Dubai. But first of all, this company does not have any history of their past trades.
These guys are so clever that they even promise you riches using a fake business reg number (ICC20160282). That number is fake because it cannot be verified.
And what do say concerning the Trade Coin Club? Same story. We even begin wondering if Vitaliy Dubinin just decided to collect scammers from all corners of this globe and put them together for a common purpose.
The Trade Coin Club is just another crypto-currency ponzi program. Unlike the Bitcoins Wealth Club where the owner is known, the Trade Coin Club doesn't have a known owner. It is simply a rogue system that Vitaliy Dubinin wants you to join so that he can make quick bucks here and there.
Our best advice for you
First of all, you need to realize that Bitcoins Wealth Club system does not offer any product worth selling. It is therefore an illegal system. Secondly, it does collude with internet fraudsters to scam members of the public.
If you join Bitcoins Wealth Club, you will be essentially selling membership of that site to other people. This business model has been proved to be unsustainable because income generally depends on new members who are paying to join the system.
But to answer this question, these scammers have fused it with a trading program to create the impression that it isn't MLM stuff. Stay away.