Coinxo is a shady asset management company with a ridiculous sales pitch. Their return on investments are equally exaggerated and can't be sustained even if they paid the promised percentage. On top of that, Coinxo does not allow investors to test their service with a small amount such as $5. If you end up getting convinced and are planning to test their service, there is no way you can fund an account with less than $1000. That is a risk that a rational person would never take.
Since Coinxo is shady, there are a number of things we should be looking into in this discussion. The aim is to try and see how reliable and trustworthy these guys can be in terms of their investment operations. After all, it's your right to know where your money will be going to. $1000 is not a small investment. You should demand to know how this money shall be invested and what trading or investment techniques will be used to multiply it. Finally, you want to know if your funds are safe in the hands of coinxo.com.
According to records which can be found on Companies House, Coinxo is registered as a fund management company where people known as RODRIGUEZ and Melinda work as secretaries. We have no idea where these two employees are listed with one name only. It makes it quite difficult to verify if indeed they work for this entity.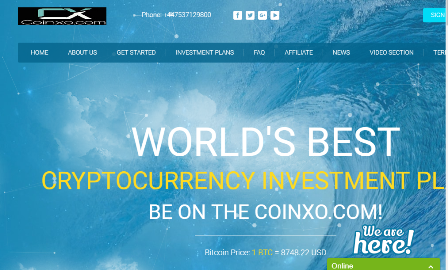 The company was registered on 16th Nov 2017. It is very new, and typical of ponzi scheme platforms that disappear 6 months down the line.
The provided address of this company is Kemp House, 160 City Road, London, United Kingdom, EC1V 2NX which corresponds to the address written on their website.
Therefore, it appears that indeed CoinXo is operating out of the UK.
👉 Are you looking for a Forex Robot that offers realistic returns even when the markets are volatile or down? Golden Pickaxe is the BEST Forex robot using low risk and EARNING a whopping 47.93% monthly profit margin. You get a robot offering the best in terms of safety and guaranteed profits no matter the risks. A gold-driven EA robot, the robot was created and developed over ten years. It has the pedigree to offer gold traders a profitable all-year-long profit regardless of market conditions. We have tested the platform, and it has seen remarkable profit margins for the past 15 months. The well-known trader developer (Valeriia), put the robot out there for any trader to confirm its realistic profitability. And the robot was tested and seen to be even better than what we thought was the best, Waka Waka. Golden Pickaxe is now one of the best-proven forex robots that offer profitable outcomes, and all data are third-party verified independently via Myfxbook. The balance volume for Golden Pickaxe is there for anyone to see. And that means you get a transparent Forex robot guaranteeing results. Even when facing drawbacks of 37.47%, the robot balances the profits. With an automated trading robot, you can receive near-perfect signals for trading gold. And that's what every trader needs when investing in Gold. So what are you waiting for? We have tested the robot and Guarantee it's a perfect match for you. Start earning realistic profit margins from forex trading with a LOW-RISK thanks to Golden Pickaxe. We have been using it even when the gold market was risky. Thanks to this automated forex robot, you can earn 47.93% ROI or more per month consistently. Complete beginners to Forex can start and immediately start earning a stable and reliable income with it.  What's more? You don't even have to deposit funds with your broker when using the Golden Pickaxe robot. Just register with a Broker such as IC Markets or Coinexx (for US-based traders); there's no need to deposit your real funds with them. Instead, use the Golden Pickaxe robot to pass a funded account challenge on FTMO. No worries, it's very easy to pass once you install the EA. Once you pass the challenge, FTMO funds your account with real live funds depending on the challenge you passed, then you can simply carry on trading with the EA on the live account and request payouts monthly whenever you want to withdraw your profits. All challenges and trading are done automatically by the Golden Pickaxe robot, so you don't have to worry. Or... if you don't like the idea of a trading challenge/evaluation, you can simply buy a cheap funded account with prop firms we recommend like FundYourFx, get instant funding of a real account, then start using the robot to trade, profit and make weekly withdrawals, very easy. If you have any questions or want help with the setup, head over to our live chat and ask for Corey Woods. Corey will help you with any issues, problems, or initial setup along the way. Here's your chance to start trading Gold and earn with an AUTHENTIC, PROVEN, AND SAFE Forex Robot. Sign up today for a chance to get a reliable side income with GOLDEN PICKAXE. Click the button below to buy the EA, then contact me on live chat if you need any help setting up the whole thing.
Click Here To Buy Now
This company claims to mine and trade Cryptocurrencies for their customers. They also claim that Coinxo has gone ahead to invest in modern mining equipment which will ensure high efficiency in their mining operations, thus profits can be acquired.
Besides this, one of their 3 investment plans mentions that the company also trades Forex and Binary options for their clients.
No further details have been divulged concerning their trading activities except when they claim that they are working with several exchanges to trade Cryptos.
For their Forex and binary options trading activities, we are totally in the green because CoinXo does not expose any evidence which suggests that indeed they are involved in the trading of these instruments.
And of course this website is also offering a 3% referral system to boost the income of members who purchase any of their plans.
This model of business might suggest that there is an element of ponzi scheme in the CoinXo way of business. They are encouraging more sign ups through the implementation of a referral program which will automatically make gullible people try sharing this suspicious investment opportunity with families and friends.
Unfortunately, we are not endorsing CoinXo yet because there are many problems that need the attention of investors here.
Return on investments
CoinXo is offering weekly return on investment of up to 10%. That is 40% per month. Do you think this makes sense? No, it doesn't because they have not factored draw down in their trading activities, and neither have they considered the fluctuating cost of mining Cryptocurrencies.
Therefore, no one should be promising 10% per week ever. Unfortunately, scammers do make those promises even if they know very well that 10% per week is not achievable and definitely not sustainable. Do we consider them a scam? Maybe yes and maybe not. But you must understand that similar operations have resulted in investors losing their funds on the internet. One of the iconic cases here has to be the collapse of Bitconnect scam, a ponzi scheme that set the trend which is now being used by platforms like CoinXo and the rest.
Will Coinxo survive? We doubt it. Will they pay you the promised return? No way. So are they are scam? Possibly. But we definitely can't lie to you that they will pay you any amount of money. The profits are just too good to be true.
No evidence of mining or trading
Whereas they are claiming that this company is involved in mining and trading, there is no reference of their mining farms or trading activities anywhere on the site.
This actually makes them look suspicious. A cloud mining company must tell us everything related to their mining activities, just in case they can't produce proof of their mining activities.
What Cryptos do they mine? No one has an idea. Which Forex pairs to they trade? Again, we are clueless. But one thing is certain. These guys are only making claims which are hard to verify.
They have not provided us with any trading results. This makes it impossible to gauge their profitability in this business — that is, if they ever trade assets.
Future outlook of this site
Coinxo will definitely fail because they are implementing the same business model that failed pyramid schemes once implemented and stole every coin from their users.
While they have a phone number on their site which can be used to contact them, we feel that reaching out to them would be a total waste of time since they have not given us any reason to contact them in the first place.
Also, the site's presentation is not attractive. The logo is poorly designed and looks out of place. The professionalism of this site is clearly suffering. Definitely people can't trust them.
Our best advice for you
If you want to trade Cryptos, use this link to find out what software is available for use. If you want to mine instead, we have collected a few reliable companies for doing this job. You should pick any of these companies because they have been in this business for a long time now. But you should definitely avoid CoinXo because no real mining or trading is going on there.