Selected Markets (Selectedmarkets.com) is another crude CFDs and Forex scam broker to hit the trading world. SelectedMarkets is professing to be a professional Forex trading service provider which is far from the truth. Conducting a thorough research was on the cards after receiving numerous email complaints. Having over 20 members complaining about withdrawal and fund handling was the key points. Read this detailed and honest SELECTED MARKETS review for more.
Want to make money with a proven trading market which is profitable? Why not sign up with industry leading and proven Crypto Currency trading tools. Make money the right way by using the right trading tools. A solid and trusted way of making money is by using Crypto Currency trading robots. Be the next successful trader by partnering with recommended Crypto Currency trading robots. And this is what must be emphasized to all newbie traders, accredited Crypto Currency trading robots.
Selected Markets Review
What seems to be a legit broker has turned out to be a horrifying experience for some members. Most of these members have lost over $1500 with this broker due to preventable causes. As it turns out, this broker has broker is out to cause malice by providing fake services. Traders have been crying foul after losing their first batch of deposits. Selected Markets is calling on members to deposit more funds in order to win huge profit margins. Such brokers should be ignored and all attempts to sign up stopped. Dealing with Selected Markets is probably a financial suicide.
After landing on their homepage, one can see why newbie traders are falling for this broker. With a visually appealing website, most investors easily fall for this broker. And this is exactly what these scammers are after. Trying to capture your attention with their sales pitch! Looking at their homepage, pictures of successful people are well placed. What these scammers want is to create an illusion trading with this platform takes you to the next level. It is simply lies plastered by professional scam artists.
About Selected Markets
Where is this broker situated? After conducting a thorough research, we found the broker is located in St. Vincent and the Grenadines. Halsted Holdings LTD is the mother company which owns this platform. What this broker is trying to do is fool users into believing there are a professional outfit. Disclaimer only proves we are dealing with an offshore broker which is highly risky.
Another perturbing detail with Selected Markets is level of anonymity. Anonymity is a dangerous partner when it comes to any form of online investment platform. Who are the founding members of this platform? Why have they failed to give users the actual names of people running this website? What looks like a legit broker is nothing but a scam outfit which is likely stealing from members.
👉 Are you looking for a Forex Robot that offers realistic returns even when the markets are volatile or down? Golden Pickaxe is the BEST Forex robot using low risk and EARNING a whopping 47.93% monthly profit margin. You get a robot offering the best in terms of safety and guaranteed profits no matter the risks. A gold-driven EA robot, the robot was created and developed over ten years. It has the pedigree to offer gold traders a profitable all-year-long profit regardless of market conditions. We have tested the platform, and it has seen remarkable profit margins for the past 15 months. The well-known trader developer (Valeriia), put the robot out there for any trader to confirm its realistic profitability. And the robot was tested and seen to be even better than what we thought was the best, Waka Waka. Golden Pickaxe is now one of the best-proven forex robots that offer profitable outcomes, and all data are third-party verified independently via Myfxbook. The balance volume for Golden Pickaxe is there for anyone to see. And that means you get a transparent Forex robot guaranteeing results. Even when facing drawbacks of 37.47%, the robot balances the profits. With an automated trading robot, you can receive near-perfect signals for trading gold. And that's what every trader needs when investing in Gold. So what are you waiting for? We have tested the robot and Guarantee it's a perfect match for you. Start earning realistic profit margins from forex trading with a LOW-RISK thanks to Golden Pickaxe. We have been using it even when the gold market was risky. Thanks to this automated forex robot, you can earn 47.93% ROI or more per month consistently. Complete beginners to Forex can start and immediately start earning a stable and reliable income with it.  What's more? You don't even have to deposit funds with your broker when using the Golden Pickaxe robot. Just register with a Broker such as IC Markets or Coinexx (for US-based traders); there's no need to deposit your real funds with them. Instead, use the Golden Pickaxe robot to pass a funded account challenge on FTMO. No worries, it's very easy to pass once you install the EA. Once you pass the challenge, FTMO funds your account with real live funds depending on the challenge you passed, then you can simply carry on trading with the EA on the live account and request payouts monthly whenever you want to withdraw your profits. All challenges and trading are done automatically by the Golden Pickaxe robot, so you don't have to worry. Or... if you don't like the idea of a trading challenge/evaluation, you can simply buy a cheap funded account with prop firms we recommend like FundYourFx, get instant funding of a real account, then start using the robot to trade, profit and make weekly withdrawals, very easy. If you have any questions or want help with the setup, head over to our live chat and ask for Corey Woods. Corey will help you with any issues, problems, or initial setup along the way. Here's your chance to start trading Gold and earn with an AUTHENTIC, PROVEN, AND SAFE Forex Robot. Sign up today for a chance to get a reliable side income with GOLDEN PICKAXE. Click the button below to buy the EA, then contact me on live chat if you need any help setting up the whole thing.
Click Here To Buy Now
Dealing with accredited and credible Forex brokers is the way forward. Make sure to always use dependable and tested Forex brokers. Get ahead of the pack with effective and efficient Forex brokers. Make the right move and sign up with leading Forex brokers with a solid reputation. Stay ahead of the pack by dealing with transparent and trusted Forex brokers. Time to make realistic profit margins is here and now with reliable brokers.
Account Funding
What scam artists are good at is creating ways of getting money quick. In this case, Selected Markets is making sure users deposit funds easily and fast. With depository channels such as AstroPay, Neteller, Skrill, MasterCard easily available, funding accounts is easy. What these scam artists fail to say is these account funding options take funds straight to their personal accounts.  Funding your accounts leads to you lining their pockets with your hard earned money.
Main problem with Selected Markets is withdrawing funds. No member has been able to withdraw funds which makes it a huge problem. What these scam artists do is give users reasons as to why they can't make withdrawals. Sign up with brokers who will make withdrawing easily available. Selected Markets is giving users fake excuses as to why they can't make withdrawals. A good excuse they are using is lack of reaching required trading volume. Stay away from this broker at once.
Account Types
Selected Markets is advancing five different account types to choose from. These account types are Practitioner, Advanced, Preferred, Selected, and Infinite. Are these accounts credible or are they part of the scam? Smallest account holder must deposit a minimum of $5,000 to start trading. What an incredible high amount considering the industry set standard of $250.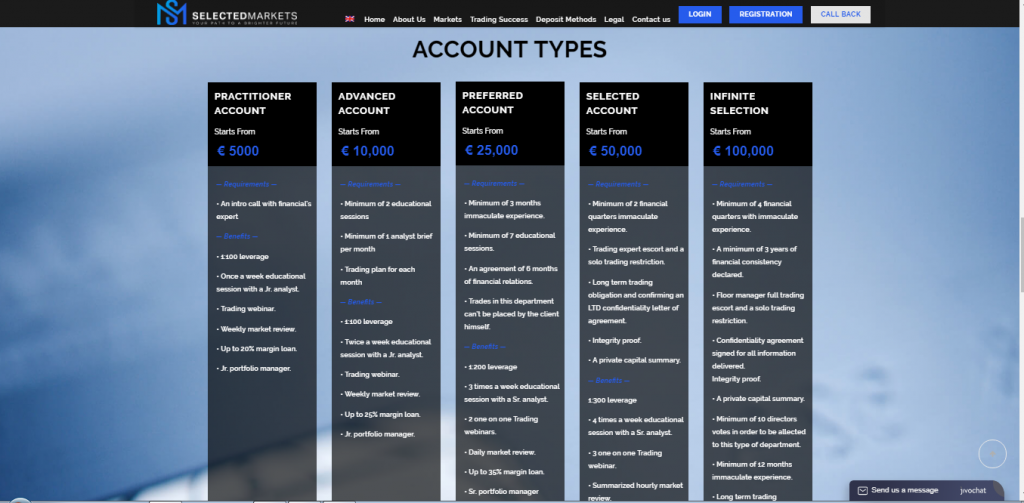 Another appalling feature we noticed with this broker is issuance of loans. How did a Forex trader start issuing loans? These loans will eventually cost members more and are not credible. What this broker will do is give you a loan and always ask you to make more deposits to withdraw the loan. Selected Markets is operating more like a pyramid scheme. Ensure you stay clear of this broker and any of their accounts. These accounts are mere trigger bombs waiting to explode.
Do you prefer trading Forex with reliable and secure trading tools? Worry no more as you can start making money with leading Forex trading robots. Tested and trusted Forex trading robots are what you need to make money trading Forex. Give your trading some credence by using approved and expert recommended Forex trading robots. Make the informed decision today and use leading Forex trading robots. Time to make money is now with proven Forex trading robots!
Unresponsive Live Chat
Another unsettling issue we found with this broker is an unresponsive chat support. Although they have a chat dashboard, getting a representative is hard to get. It's either they have no chat representatives or are using this chat box as a hoax. They claim users must first send them a message and reply within a day. Why would they require both your email and phone number? So as to constantly harass you with email marketing tactics and phone calls. Selected Markets is also harvesting data.
Are funds secure with Selected Markets?
How can funds be secure with a platform which isn't licensed? Why would funds be secure with a platform which is based offshore? Offshore brokers are dangerous as they can easily close shop without issuing members any warning. How do they handle funds deposited by members? Which banking institution are they using to deposit funds from members? Is it possible members are funding the personal account of owners of this platform? It's possibly the case with this broker.
Selected Markets is merging all assets in one account which is extremely dangerous. Lack of insuring funds deposited is a major flaw with this broker. In case something goes wrong, no member should expect any compensation. Lack of a proper compensatory scheme is proof we are dealing with a crooked broker. Make sure to sign up with a broker who offers insurance for your funds.
Is Selected Markets a Scam?
Selected Markets is a scam which must be avoided by all investors. To stay completely safe, mark their emails as Spam and ignore all calls to sign up. Hoping relevant authorities will be shutting down this website soon.
Verdict
By adding this broker to our scam blacklist, we believe we will be protecting our readers. Stay clear of this abominable broker or else face the music. Don't be their next victim and stay clear of any of their affiliate markets.
Wishing you a safe trading experience!