Marquet Capital (Marquetcapital.com) is a CFDs and Forex broker scam to hit the lucrative trading world. MarquetCapital is claiming to be a leading broker in CFDs, Commodities, Crypto Currencies, and Forex. Marquet Capital review is meant to open your eyes to the scam that lies underneath this broker. MARQUET CAPITAL is claiming to be flexible and has a professional staff behind it. Read this detailed and honest review regarding MarquetCapital.
Marquet Capital Review:
With claims of having client satisfaction, we highly doubt that this is the true case. Negative comments have been floating all over the internet concerning Marquet Capital. Most of these comments are from users who have been conned by this broker. That's why we decided to carry out a full investigation to determine the true reality with MarquetCapital. Don't sign up with Marquet Capital before you read this entire review.
Scam artist have used the same bag of tricks over and over again. This broker is no different with their empty claims and promises meant to entice investors into signing up. Claims such as providing the best possible trading services to customers are pure lies. It should be noted that scammers will do or say anything to try and entice people into signing up. Don't be easily convinced by their cheap theatrics, know the whole truth here!
Consider Accountable and Transparent Crypto Currency Trading robots. Experts advise that newbies sign up with Approved and proven Crypto Currency trading robots. Reliable and Reputable Crypto Currency trading robots are guaranteed to keep traders safe. Go for Crypto Currency trading robots that are Transparent and Trustworthy. Start making realistic profits with Genuine Crypto Currency trading robots.
Who Owns Marquet Capital?
Marquet Capital is owned by Golden Axe Capital Limited. This is according to the disclaimer at the bottom of their homepage. Disclaimer goes ahead and states that this company is based in the Marshall Islands. By their own admission, they have plainly revealed that this is an offshore brokerage house. Offshore brokers are notoriously known to flaunt set industry regulations and rules. Best thing is to stay clear from this broker.
👉 Want to make money automatically with Bitcoin and Cryptocurrencies without the risk of trading yourself? Are you ready for self-custody of your investment funds? Do you like the sound of regular consistent results and profitable performance? Tired of the forex and crypto scams, false promises and games out there designed to separate you from your hard earned funds? Stop everything! ETBOT is for you! With the ETBOT software, only YOU are in control of your investment funds. The software works using API Key connections that only YOU set up and control. The ETBOT service and mother company EndoTech has been making investors hundreds of percent a year in proven gains since 2012! They use the volatility of the Crypto market to trade long and short using breakout techniques and strategies powered by real Artificial Intelligence. This year so far ETBOT has made over 75% for clients since January 1st, 2020. If you are ready to leave the trading to the professionals and upgrade your monthly income, now is the time, head to ETBOT now and buy your subscription to get started. PS: ETBOT is a Profitable Forex/Crypto Trading Bot. 100% Verified and Recommended by Valforex.com.
Why have they failed to mention the CEO or CFO of their mother company? It's clear that we are dealing with a professional scam outfit that will easily steal your money. Lack of these names clearly means that they are up to something. There's no mention of the founders of these brokerage firm. Anonymity is a dangerous character to have especially with any online investment opportunity.
Is Marquet Capital Licensed or Regulated?
Sadly, fraudsters will say or do anything to make their products appear real. Marquet Capital is no different as they have simply posted a load of fake claims. They have not even posted their licensing or registration number on their homepage.
Most legit brokers will easily post their licensing and registration documents for all to see. With MarquetCapital, this is not their concern. Lack of these important documents clearly reveal that we are dealing with a rogue broker. Stay away from Marquet Capital as you are dealing with an unauthorized entity.
Account Types.
Marquet Capital is offering users four different account types to choose from. These accounts include VIP, Islamic, Auto, and Portfolio Account. VIP account holders are for traders who require large volumes of trade. Auto account is for traders who prefer they receive paid signals. Portfolio account is for private and institutional investors. Islamic account is for members of the Islamic faith and does not apply to any other person.
Problem with all these accounts is the lack of details with each account. There's no information regarding the minimum required deposit with each account. . A broker who hides such information is a rogue broker for one reason. They may choose to apply their own rates according to each individual who signs up.
Start using Forex trading robots that have been Recommended by Forex experts. Make realistic profit margins with Authentic and Credible Forex trading robots. Use Accountable and Transparent Forex trading robots for all your Forex trading requirements. This will guarantee your safety when trading with Forex.
No Live Chat Support.
Another disturbing feature we noticed with Marquet Capital is the lack of live chat support. How do they expect users to get a hold of them? As we earlier said, this broker is doing everything necessary to remain anonymous. Anonymity is a character that most rogue brokers use to steer clear from law authorities. Best thing is to make sure you never sign up with this rogue broker.
A professional Forex broker will do everything in their power to be available to users. Apparently, Marquet Capital is not one of them. Least they would have done is offer bot services. Not that we are for bot services, but they at least answer a few relevant questions. This broker simply wants to get as many people to sign up and then close shop Don't become their next victim, stay clear from MarquetCapital.
Are Funds Safe with Marquet Capital?
Funds are never safe with anonymous and unregulated Forex brokers. This broker does not follow strict rules and regulations set by the industry. Have you noticed that they have failed to mention their depository bank? Which institution do they use to bank funds sent by members? Lack of this vital information is proof we are dealing with a rogue broker.
Marquet Capital does not segregate accounts. This means that they are pooling funds in one account which is dangerous. In case of bankruptcy or insolvency, members will lose money without getting a warning from this broker. This broker does not participate in a compensatory scheme. That's another reason not to sign up with this broker.
Crypto mining companies are the next best alternative to making money with digital currency. Sign up with leading and proven Crypto mining companies with a solid track record. Make sure you sign up with credible and dedicated Crypto mining companies. Your chance to make money with digital currency starts with a reliable Crypto mining company.
Fake Claims.
One of the most disturbing claims with this broker is that it offers flexible trading conditions. With the negative comments we are sure that this is another fake promise. Scammers use claims and promises to entice users into signing up. These scammers know for a fact that we all want to make a quick buck. They take advantage of this need by claiming to offer a way out. That's when users start falling to their shady promises.
What diversity of approaches do they use to help people make money? It's clear that all what this broker intends to do is offer empty promises. Don't fall for them; Marquet Capital is simply another Forex broker scam in the making. You can easily see the negative comments floating around with this broker. Don't take our word for it, check it out for yourself.
Is Marquet Capital a Scam?
Marquet Capital is a scam that is waiting to pounce on anyone who signs up with them. Make sure that you stay away from this scam. Mark all their emails as Spam and never click on any links sent by their email marketing team. Warn your friends and relatives from signing up with MarquetCapital as this is a dangerous scam.
Marquet Capital Final Verdict.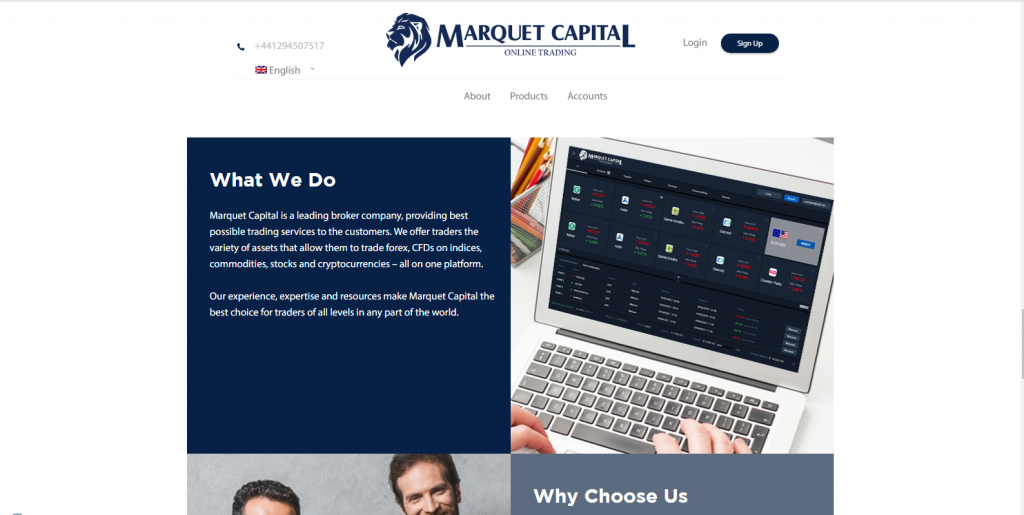 Marquet Capital is in our books one if the dumbest Forex scams we have around. Our only option is to add this broker to our scam blacklist. That's the best way to make sure that this broker will not steal from unsuspecting Forex investors.
Always go for Reliable and Reputable Forex brokers at all times. Sign up with Transparent and Trusted Forex brokers. That's a proven way of trading comfortably and safely with Forex trading.
We wish you all the best in your Forex trading experience.
If You'd Like to Get Notified When This Site is Updated, Subscribe Below...