SwissMain (Swissmain.com) is a Forex scam broker that is waiting to pounce on unsuspecting Forex investors. Swiss Main is claiming to make some success in every 5 seconds they trade with their platform. With such bogus and insane claims, we decided to carry out a thorough investigation to determine the truth. SWISSMAIN is another rotten Forex scam that will steal your funds at once. Read this detailed Swiss Main review.
SwissMain Review:
What these scammers have done is create a website that easily entices the eye. With moving images full of selling points, this broker will entice newbie traders into signing up. And that's why we have to expose all their dirty little tricks as this broker is a fraud. Looking at most comments written, users have been conned by Swiss Main. It's clear that this broker is simply asking users to deposit money with them. After deposits are made, they close that account.
Claims and promises are another bag of tricks that scammers use to trick newbie investors. Promise that this broker helps to make a different trader successful once every 5 seconds is a lie. If this was the case, every trader we know would sign up with this broker. These are some of over the moon claims scammers use to attract newbie investors. Make sure to read this entire review and find out why SwissMain is a Forex scam.
Always sign up with industry backed Forex trading brokers at all times. This will ensure that you trade comfortably and safely at all times. Always go for Forex trading robots that have been Tested and Vetted by the trading community. Get Reliable and Reputable Forex brokers at all times. This guarantees your safety when trading Forex at all times. Sign up with Dependable and Transparent Forex brokers to start making realistic profit margins.
Who Owns SwissMain?
Disclaimer at the footer of the homepage reads that this platform is owned by Median Banc LTD. It should be noted that scammers will do or say anything to make their products appear legit. Swiss Main is no different as they have posted fake credentials. This broker claims to be located in Vanuatu which is proof we are dealing with an offshore broker. Offshore brokers are notoriously known to flaunt industry regulations and rules. Stay away from offshore brokers.
👉 Want to make money automatically with Bitcoin and Cryptocurrencies without the risk of trading yourself? Are you ready for self-custody of your investment funds? Do you like the sound of regular consistent results and profitable performance? Tired of the forex and crypto scams, false promises and games out there designed to separate you from your hard earned funds? Stop everything! ETBOT is for you! With the ETBOT software, only YOU are in control of your investment funds. The software works using API Key connections that only YOU set up and control. The ETBOT service and mother company EndoTech has been making investors hundreds of percent a year in proven gains since 2012! They use the volatility of the Crypto market to trade long and short using breakout techniques and strategies powered by real Artificial Intelligence. This year so far ETBOT has made over 75% for clients since January 1st, 2020. If you are ready to leave the trading to the professionals and upgrade your monthly income, now is the time, head to ETBOT now and buy your subscription to get started. PS: ETBOT is a Profitable Forex/Crypto Trading Bot. 100% Verified and Recommended by Valforex.com.
In case you have a keen eye, you will notice that there's no mention of any real names. How can a broker who claims to make traders successful every five minutes have no name? There's no mention of a single name of anyone who runs this brokerage firm. And that's why we need to take a pause with this broker. It's clear that this is an anonymous broker who must be exposed. Anonymity is a dangerous character to associate with.
Is SwissMain Licensed or Registered?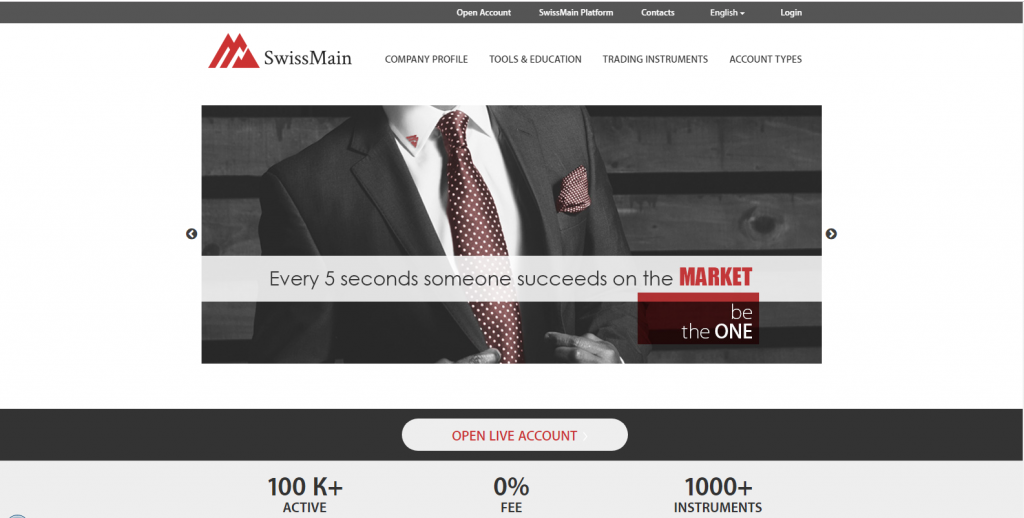 As we had earlier stated, a scammer will do or say anything to make their platform appear legit. This broker has posted a fake registration number at the footer of their homepage. They also claim to be regulated by the VFSC with registration number 014691. Folks, this is purely a fictional number meant to make investors believe this broker is registered. Regulatory body in Vanuatu does not use this algorithm to register brokers.
That begs the question, to what ends will this broker go to attract investors? If indeed this broker is properly licensed, where are their registration credentials? A real broker will easily post copies of their registration certificates and documents. This helps prove that they have been properly vetted by the regulatory bodies. Make sure to stay away from this broker as they have used fake credentials to lure unsuspecting investors. Stay away from this broker.
Deposit and Withdrawal.
When it comes to depositing money with this broker, it's the only thing this broker got right. Depository channels used include Visa, MasterCard, Skrill, and Bank Wire. There's a reason why this broker has made these channels easily available. SwissMain is offering users these channels so that deposit is made easier. They don't want to hear any excuse as to why investors can't deposit money with them. This is not a reason to sign up with this broker.
When it comes to withdrawing money, that's when the cracks start to appear. Withdrawing money with this broker has become a headache to most users. As it turns out, this broker fails to allow users a way to withdraw money. Any member who sends a request to withdraw money is greeted with silence or account is closed. Make sure to stay clear of this broker and sign up with industry accepted Forex brokers. This broker is simply out to get your money.
Sign up with Credible and Dependable Crypto Currency trading robots that guarantee your safety. Ensure that you use industry backed and vetted Crypto Currency trading robots. Use industry approved and efficient Crypto Currency trading robots at all times. Start making right decisions by having the right Crypto Currency trading tools. Use Vetted Crypto Currency trading robots that have been Tested and Trusted by experts.
Account Types.
When it comes to account types, this broker offers four different account types. These account types are Silver, Gold, Platinum, and VIT. Minimum deposit required to start trading with these accounts starts at $500, $10,000, $25,000, and $50,000. This is another red flag when it comes to Swiss Main; their accounts are all the same.  There's no visible difference with their accounts which makes them all similar.
What this scammer is after is simply make investors deposit money with any account. They have made sure that their trap is set to catch all types of investors. Once you sign up and deposit money with this broker, that's the last thing you will hear from them. Ensure that you make the right decision by staying away from this rogue broker.
Are Funds Safe with SwissMain?
There's no way funds are safe with a broker who is based offshore. Have you noticed that the broker fails to mention their depository bank partner? Where do they bank money deposited by investors? Lack of this vital information leads us to believe we are dealing with a hoax. It's also possible investors are depositing money straight to owner's personal bank account.
When it comes to segregation of accounts, this is not happening here. It means that SwissMain is pooling funds in one account. Make sure to stay away from a broker who puts your money at risk. In case of bankruptcy or insolvency, this broker will easily lose funds at once. Swiss Main does not participate in a compensatory Scheme.
No Live Chat.
How can a broker who is claiming to make traders successful in five seconds not have a support team? This means that the broker is merely using fake claims to lure investors into signing up. How do they expect users to contact them?. It's clear that this broker is wants to remain anonymous for a reason. They don't want any backlash from authorities or victims.
Is SwissMain a Scam?
From the evidence we have gathered, it's safe to state that SwissMain is a Scam. Make sure you stay away from this rogue broker. Mark all their emails as Spam and never click on any links sent by these brokers. Hackers are using these links to gain access to your personal files. Warn your friends and relatives from signing up with this broker at once.
SwissMain Final Verdict.
Due to the overwhelming evidence, we have no option but to add SwissMain to our blacklist. Adding this broker to our blacklist will hopefully make authorities investigate this rogue broker. Stay away from this fake broker and always sign up with vetted brokers.
Start making realistic profit margins with Proven Forex trading robots. This is a sure way expert and newbie traders can make money the right way. Always use industry recommended and Reputable Forex trading robots. They will guarantee your safety when trading.
Lastly, we wish you all the best in your Forex trading experience.
If You'd Like to Get Notified When This Site is Updated, Subscribe Below...